Plans and Upgrades
Signite provides multiple plans to help you manage and deploy your signatures. This guide will help differentiate between them, and explain each plan in detail.
1. Free Plan
Perfect to test and preview Signite's features, how it works and how it looks, without entering payment information.
Used as a free trial, for unlimited time, you can deploy signatures and use them for your email messages.
The Free plan is limited by a few features that are available only for Premium plans, and shows a Signite credit under the signature.
2. Single User Account
If your Google Workspace account contains only 1 user, the premium plan options will contain a single user plan, specific to that kind of account.
(Accounts with 2 or more users will have the option to pay for the Up to 5 plan, in accordance with the amount of actual users in the account, and/or the amount of actual deployed users.
3. Premium Plan Options
The Premium Plan contains features not available under the free plan, such as Domain and User Aliases support, Retina Images, Profile Pictures, Banner management, RSS and other features.
We're always adding more features, and upgrading existing ones.
Using the Premium plan will also remove the Signite credit from your signatures.
Premium plans are chosen by amount of users, with the default option being the closest plan to your accounts user counts, and the option to pay for only the actual deployments.
For example, if you have 100 users on your Google Workspace account, but only deployed to 3 users, the default option will be to purchase the Up to 100 Premium Plan, but you'll still have the option to purchase the Up to 5 plan (Based on actual deployments).
For more information on the pricing for each plan, use the Pricing Module available on the homepage.
4. Upgrading Your Premium Plan
Once you choose to deploy to more users than your current plan supports, Signite will prompt you to upgrade your plan to a larger one.
If you wish to upgrade the plan in advance, you have the option to do that by going to the account quick menu on the top right corner of the screen, and choosing the Upgrade option.

5. Upgrading From A Free Plan To A Premium One
At any time, you'll be able to move from the Free plan to the Premium one by going to your account quick menu on the top right corner of the screen, and choosing the Go Premium option.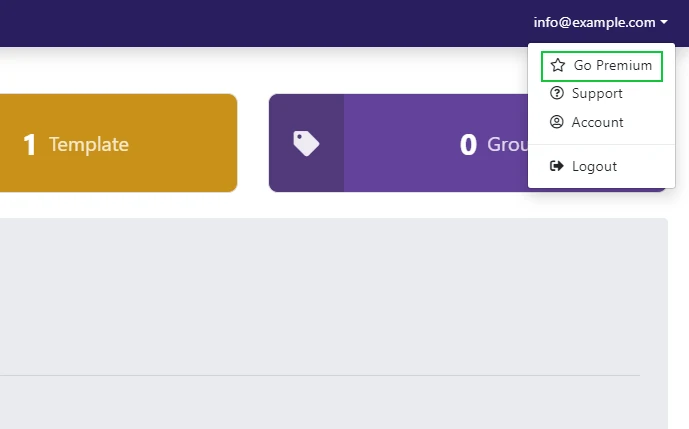 The same can be done from the Account page, by choosing the Go Premium option from the Summary on the right.