Why Can't I See My Signature?
First, please check that you've finished the signature creation process and deployed the signature to the relevant users.
Most of the time, you'll just need to refresh your Gmail inbox for the signature to show up.
Otherwise, follow this guide.
After deployment, try one of the following steps to make sure it shows on your user's Gmail:
1. Refresh your inbox
Refresh your Gmail inbox by refreshing your browser window, in order for the new signature to be updated.

2. Remove Previous Signature Provider
If you've used a previous signature provider, follow the following steps to remove any remaining control it may have on your signatures:
a. Remove the former provider's Google Workspace Marketplace app from your Google Workspace admin panel, if one was installed.
b. Verify that no SMTP settings remain from the former provider.
c. Delete your account in the former provider's management interface.
After making all or some of these necessary changes, re-deploy your signature and refresh your Gmail.
3. Check Gmail Signature Settings
When at your Gmail inbox, go to your Gmail settings, and click on "See all settings"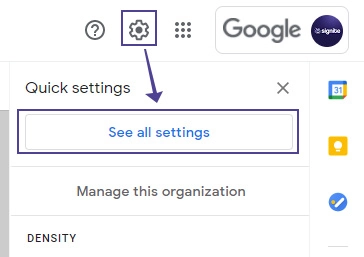 Make sure your signature settings show "My signature" in both drop down menus, for New and Reply/Forward use.

After verifying your settings, re-deploy your signature and refresh your Gmail.
If you want to make sure Gmail shows your signature on your
automatic Out of Office replies, follow this guide for more information:
Setting Up Gmail's Auto-responder
Still can't see your signature? Contact us at support@signite.io