Synchronizing Domains and Users
To see all available domains listed on your Google Workspace account, and to manage email signatures for all users on these domains, you must first synchronize your domains with Signite.
1. Domain Synchronization
Go to the Domains Screen on Signite's interface, and choose the Synchronize Domains button.

After clicking this button, Signite will interface with your Google Workspace account and synchronize all domains listed to it.
* Important to note that only the main domain on your account will be set to active by default after the initial install and synchronization.
You can also synchronize and activate other connected domains in any stage after the initial installation.
If your primary domain has no users assigned to it, you'll have to synchronize and activate the populated domains individually in order to proceed and see your users.
2. Users Synchronization
In order to synchronize all available users on one domain or another in your account, please synchronize your domains (following the above step), and after that synchronize each domain's information separately.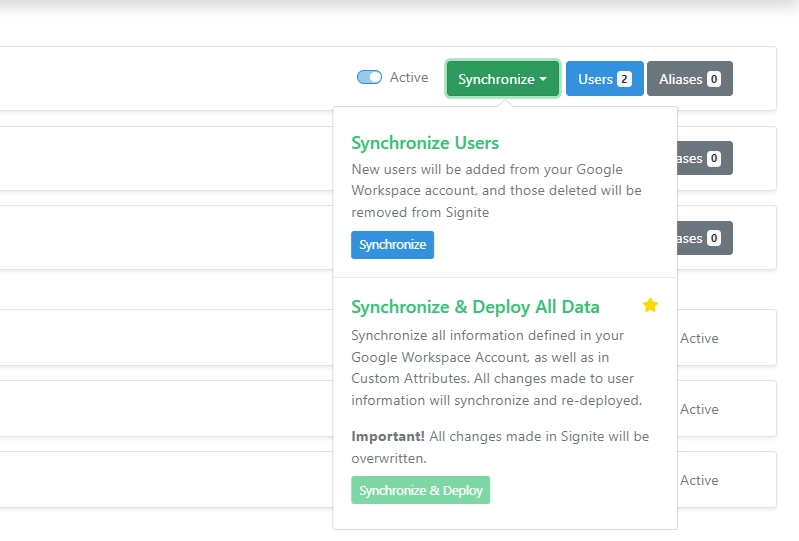 Please note that when choosing Synchronize Domain, a menu opens with the option to synchronize the domain's users without overwriting the information added on Signite, or Synchronize & Deploy All Data, which will overwrite any changes made to the users' information on Signite.
3. Synchronizing user information from your Google Workspace account​
Signite enables Premium accounts to synchronize user information directly from Google Workspace after the initial setup.
The information will be synchronized and will overwrite the corresponding user management fields on Signite, so entering it manually per user on Signite will be unnecessary.
If there's a more up to date information available over time, use the Synchronize All Data option, which will synchronize and overwrite all the user information managed in Signite.
* Please note that the account's users' information is automatically synchronized in the initial Signite setup and the initial main domain synchronization.
See the following guide for how to synchronize and integrate Custom Attributes from Google Workspace:
https://www.signite.io/guides/google-workspace-custom-attributes-integration/
If you have any questions, please contact us at support@signite.io